Theme weddings are generally fun, but when the theme is a fandom to which the lovebirds are seriously devoted, they can reach a whole new level of awesome. Here are 9 couples who committed to way more than just each other on their wedding day.
1. Super Heroes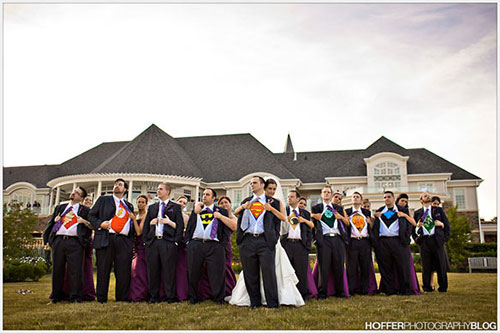 Image Source: comicsalliance.com
These guys may look like ordinary groomsmen, but they each harbor a secret identity known only to a few. The suit-under-the-suit is also perfect for brides who don't want every photo on their wedding day to include a super logo.
This wedding even included a few bonus wardrobe items to "throw around".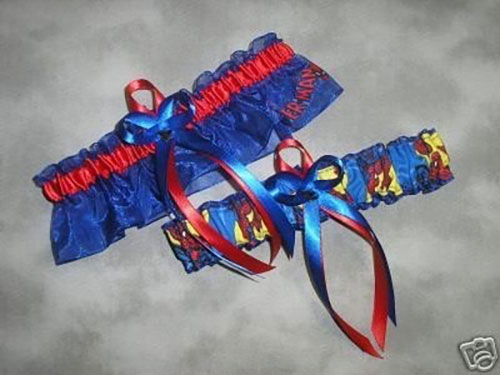 Image Source: etsy.com
2. Doctor Who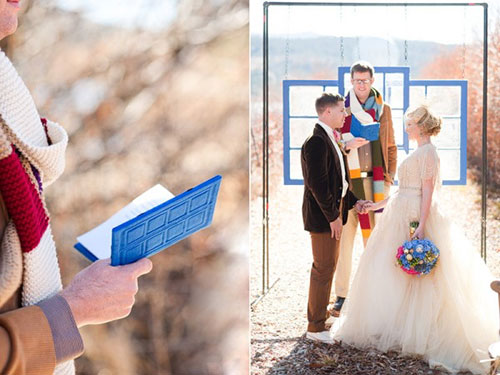 Image Source: fashionablygeek.com
Fire up the TARDIS! This couple dressed up like the Doctor and his Companion to tie the knot. This look required just some fun vintage clothes and DIY crafts for the backdrop and book, an easy and cost-effective way to geek out on what will be your own long-running series – your marriage.
3. Super Mario Bros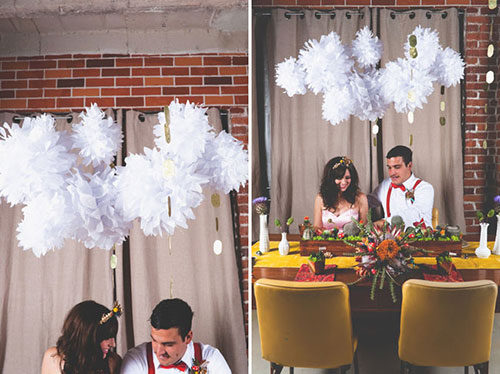 Image Source: greenweddingshoes.com
This couple's Mario and Peach wedding was a solid compromise between super-cute and geeky. Their clothing and decor paid homage to the game while retaining classic formal elegance. We just hope the groom took a break from collecting coins to focus on his bride.
4. Minecraft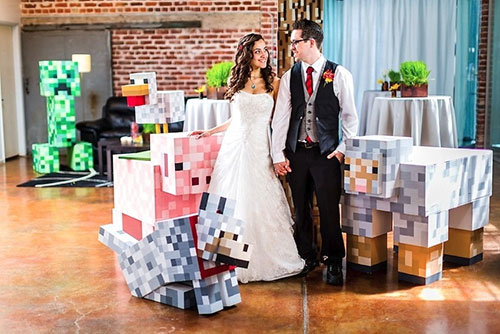 Image Source: thegoodness.com
For their Minecraft-themed wedding, Matt and Asia opted for an exposed brick backdrop (similar to some in the game) and decorated it with pixel-shapes handmade by their friends. The effect was fun, colorful, and very personal for the couple, who bonded over their love of the game.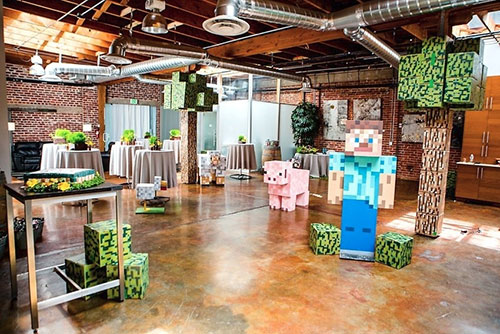 Image Source: thegoodness.com
5. Star Trek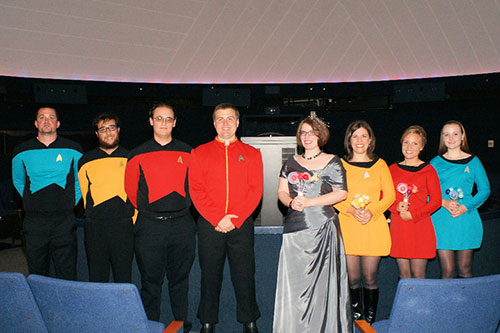 Image Source: guff.com
This couple decided to boldly go where very few others probably would for their Star Trek nuptials, but hey, that's the point! The Starfleet uniforms are unmistakable, but did you notice they're also inside a planetarium? Nice touch!
6. Harry Potter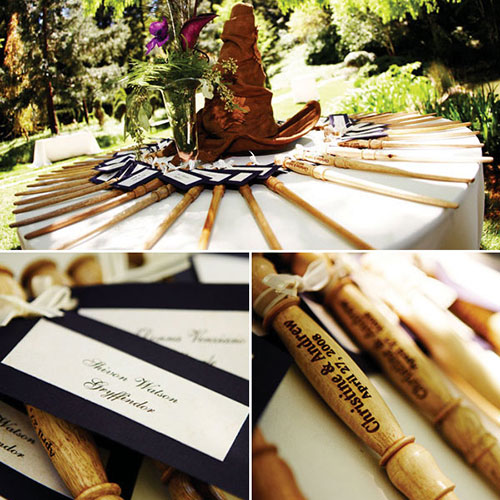 Image Source: bridalguide.com
Not only was every guest at this Harry Potter-themed wedding sorted into a house upon arrival, but they also received their own wand and got to ride on the Hogwarts Express! What's that if not magical?
7. Star Wars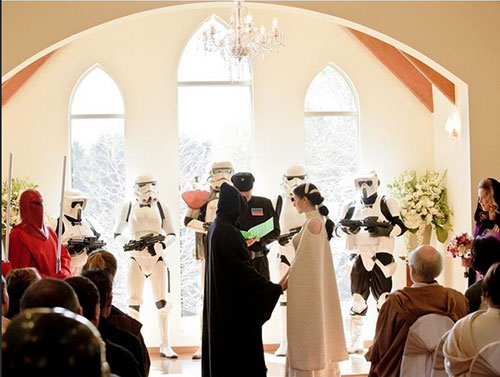 Image Source: huffingtonpost.com
Although real Jedi warriors probably wouldn't allow Storm Troopers to be in their bridal party, there's no denying that this looks amazing. The costumes likely cost a pretty penny even if they were store-bought, but it's clear the Force is strong with these two.
8. Cinderella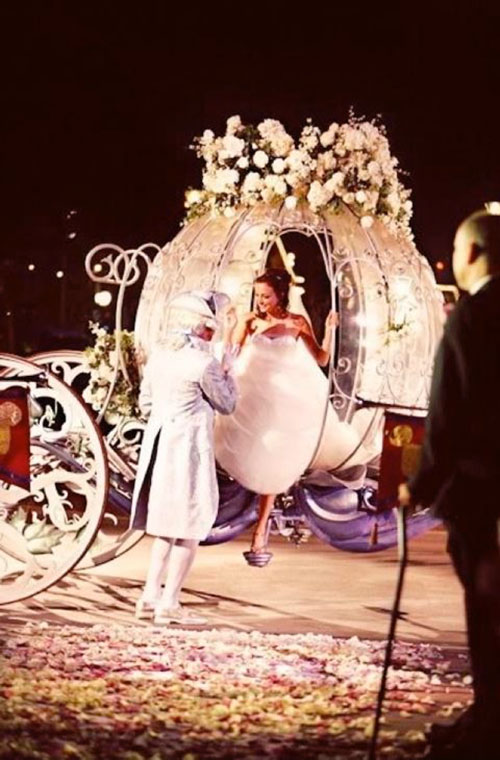 Image Source: itsabrideslife.com
If you want your beautiful princess to have the wedding she dreamed of as a child, you can be her Fairy Godmother and provide the costumes, the tiara, the slippers, and of course, the carriage.
9. Game of Thrones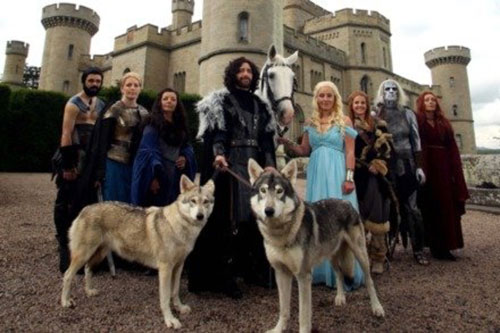 Image Source: femalefirst.co.uk

CONGRATULATIONS! If you want to have a full-on Game of Thrones wedding, but aren't lucky enough to win a contest like this couple did from blinkbox movies, you are truly one of the world's most dedicated fans.
Hiring professionals to take care of costumes and make up, finding wolf-like dogs, and—oh right—renting out a CASTLE—takes a lot. If you pull this off you deserve to be crowned the most committed.
These epic fandom weddings prove that your fantasy wedding can easily become a reality. All you need is some creativity and a DIY attitude!