Call a doctor! We need someone to take away the pain we've been feeling over the loss of Derek Shepherd, who died after being hit by a tractor trailer on a recent episode of Grey's Anatomy. Yes, folks, McDreamy has gone on to the cable syndication afterlife.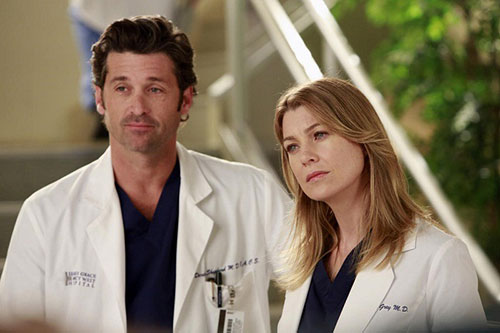 Now that Shonda Rhimes has put the kibosh on one of the greatest love stories millennials have ever known, it's time to look back on sunnier days!
Here are 9 wedding ceremonies that have taken place over the past 11 seasons at the drama-plagued Grey/Sloan Memorial Hospital:
1. Cristina and Burke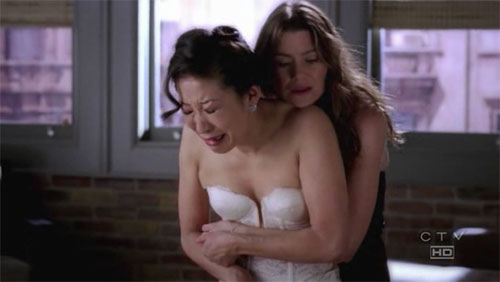 In the Season 3 finale of the hospital drama, the marriage-averse Dr. Cristina Yang decides to marry Dr. Preston Burke... only to be left at the altar. This wedding was particularly memorable, as it showcased the unbreakable bond between Cristina and her "person," Meredith. In one of the episode's final scenes, Meredith helps a despondent Cristina rip off her wedding dress. #TwistedSisters4Life
2. George and Callie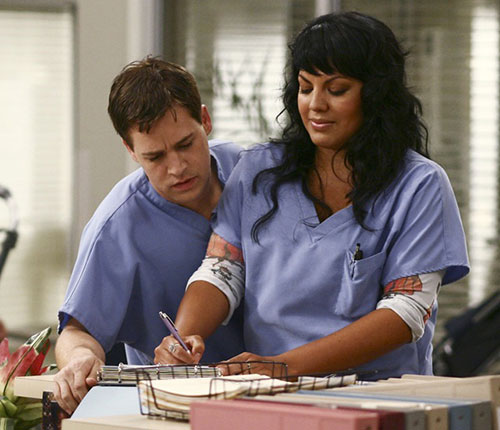 This wedding was doomed from the start. The ill-fated pair impulsively got married in Vegas after Callie had a one-night stand with McSteamy. Soon, George regretted his spur of the moment wedding, and cheated on Callie with Izzie. While this marriage wasn't the finest in Grey's history, it did have a great guest appearance from the legendary Hector Elizondo who played Callie's hilariously intimidating father.
3. Izzie and Alex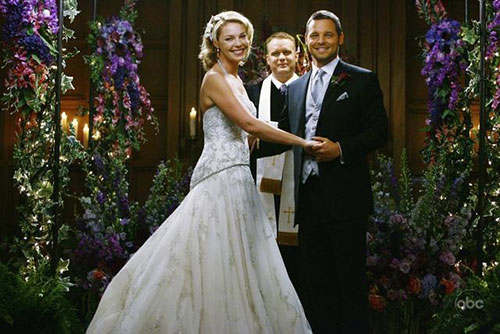 In the series' pivotal 100th episode, viewers couldn't wait to finally see Meredith and Derek walk down the aisle. Unfortunately, MerDer shippers weren't given the ceremony they were hoping for, as the couple gave up plans for their big day so that Izzie, who was recently diagnosed with cancer, could have her happy ending with Alex.
4. Derek and Meredith
After giving their wedding to Izzie and Alex, MerDer realized that they didn't need some grand ceremony to declare their commitment to each other. Instead, the star-crossed lovers decide to write their vows on a post-it note and call it a day. Not legally binding, but still adorable.
5. Cristina and Owen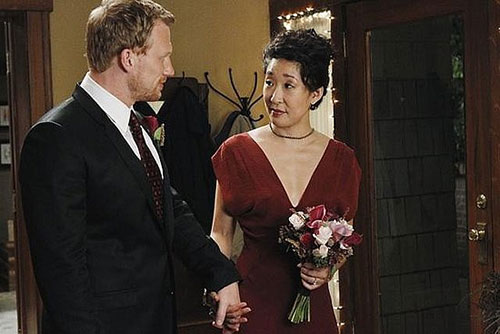 After surviving a shooting at the hospital, the erstwhile army medic and his cardiothoracic surgeon love decided to tie the knot in a small ceremony at Meredith's house. After the wedding dress disaster that took place following Cristina's failed marriage to Burke, the icy doctor opted for a lovely red number instead of a traditional white gown. And she totally pulled it off. Why? Because she's Cristina Effing Yang.
6. Derek and Meredith (again)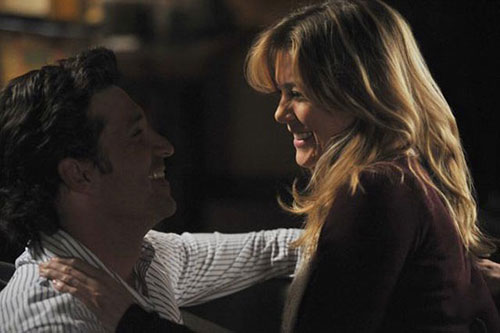 Two years after their post-it note wedding, the couple decided to make their marriage official before they adopted a baby. This wedding was a no frills affair at the local courthouse. Did you expect anything else from these two?
7. Callie and Arizona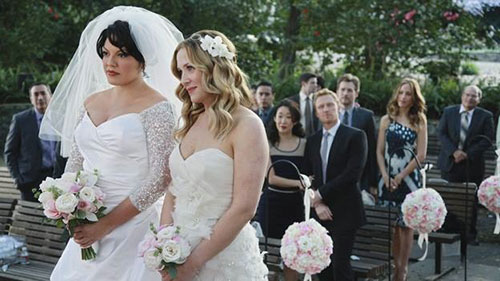 This beautiful outdoor ceremony took place toward the end of Season 7 after Callie had given birth to Sofia, her daughter with Mark Sloan. The couple's big day would've gone off without a hitch had it not been for Callie's homophobic mother causing a ruckus, and the minister falling ill before the ceremony. However, things ended up turning out fine. Callie's old lady didn't bother coming to the wedding (good riddance!) and Dr. Bailey officiated the wedding. All's well that ends well!
8. Bailey and Ben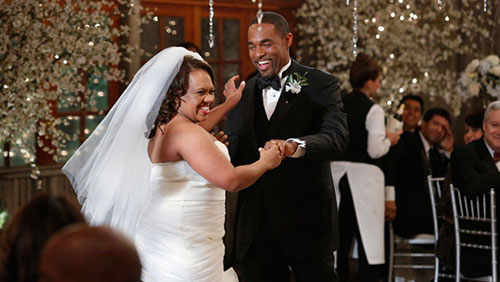 While riding to her ceremony with her mentor, Dr. Webber, Bailey forced the limo driver to turn around and go back to the hospital after learning that Webber's wife, Adele, had been in an accident. Upon returning to the hospital, Bailey treated Adele (in her wedding gown, no less), while her hubby-to-be Ben nervously waited for her at the altar.
9. April and Matthew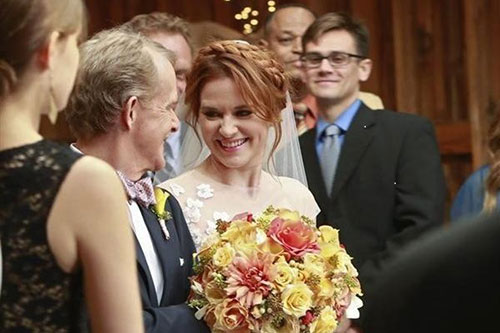 This wedding tied in with one of the greatest cliffhangers in the show's history. Just as April was about to say "I do" to Matthew, her ex-boyfriend, Jackson, interrupted the wedding and objected to the marriage (rude!). April quickly decided to run off with Jackson, and get married in private.
Now that Meredith Grey is a single lady again, might another wedding be in the show's future? We shudder at the thought of her with someone other than McDreamy, but we can't imagine she's going to stay unattached for too long.
Photo Attributions:
Enstarz
Mixed Series
TV NZ
TQN
Stilettos and Tequila
Team Sugar
Cloudfront
TV Ruckus
Buddy TV