Don't assume that because your groom's a dude, he doesn't want a stylish and meaningful wedding ring.
Here are 13 unique men's bands so you can finally put a ring on it:
1. Transforming Silver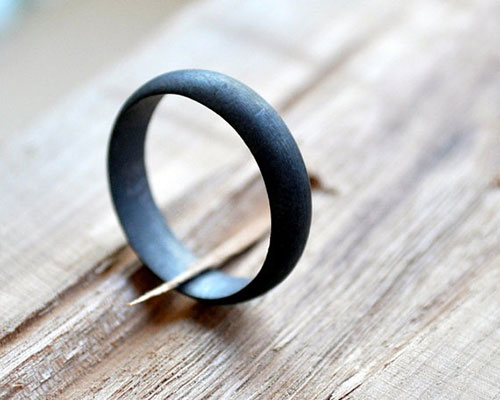 Image Source: Etsy
This oxidized ring appears black, but over time, that blackness will wear away to reveal the band's true smoky silver color. It's a ring that transforms and evolves, just like your love!
2. Artisan Black Diamond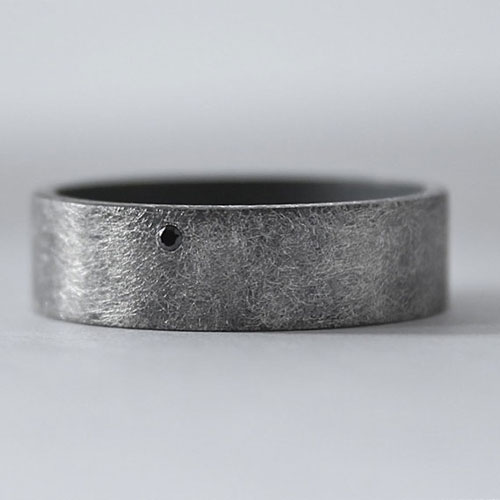 Image Source: Etsy
With its off-center black diamond, this modest ring still has some bling. It's sleek and subtle—and affordable at only $170.
3. Fit to Fingerprint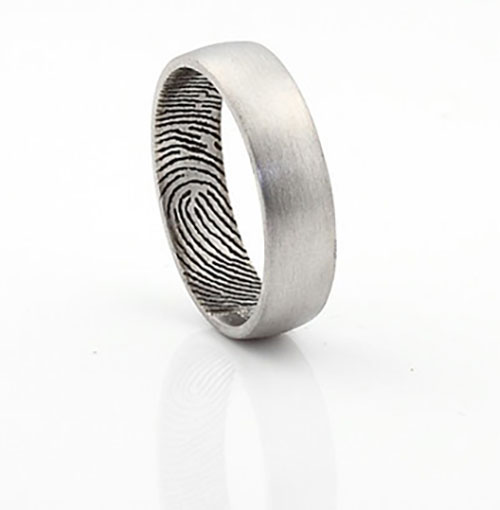 Image Source: Etsy
Everyone's fingerprint is unique, so why not have each other's fingerprints engraved on the inside of your rings? At least you know that he'll be the only person in the world with that ring.
4. Forest for the Trees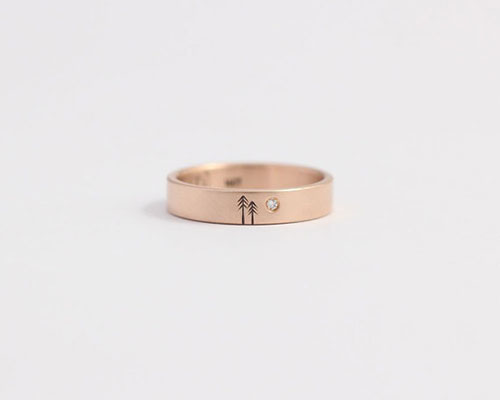 Image Source: Etsy
How often do you see a ring with a landscape on it? This band features a pair of engraved trees standing underneath a diamond moon. The trees can stand for anything you want them to – the environment, eternal love, or perhaps the forest you plan to honeymoon in.
5. Latitude & Longitude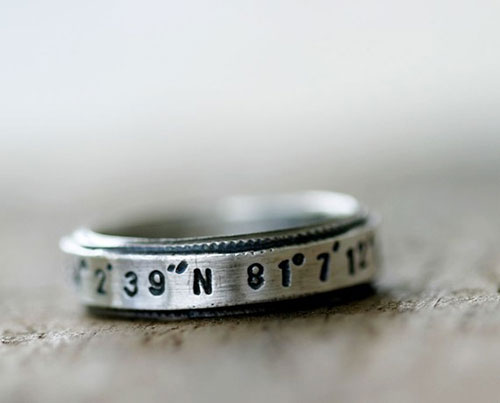 Image Source: Etsy
If your man is a traveler (or a dedicated cartographer) then this latitude/longitude ring is a clever wedding band. You can choose to engrave the coordinates of the location of where you met, shared your first kiss, or got married right on his ring!
6. Yes, Deer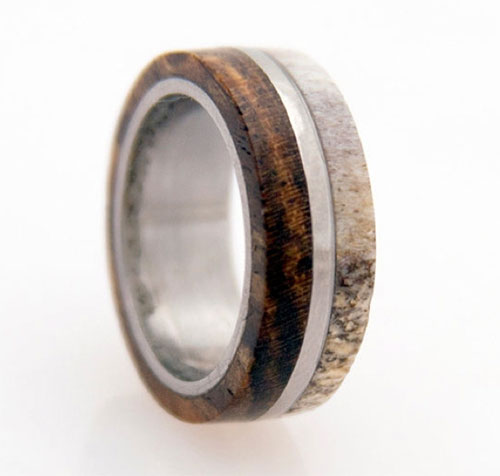 Image Source: Etsy
This titanium ring showcases two unusual materials usually not found in jewelry: wood and antler! The antlers are all found and come from bucks, elks, and moose.
7. The Sound of Love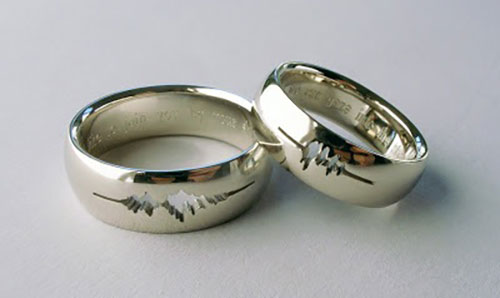 Image Source: Sakurako Shimizu
For the musically inclined, there's this sound wave ring. You can get a customized representation of what the sound of the word "love" would look like. You're also guaranteed to get a crazy tan line from this band.
8. Wooden Wedding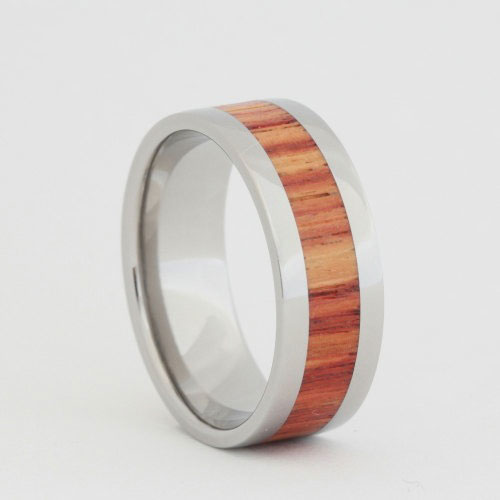 Image Source: Etsy
This titanium ring with a wooden inline is the perfect ring for a stylish manly man.
9. Space Age Spouse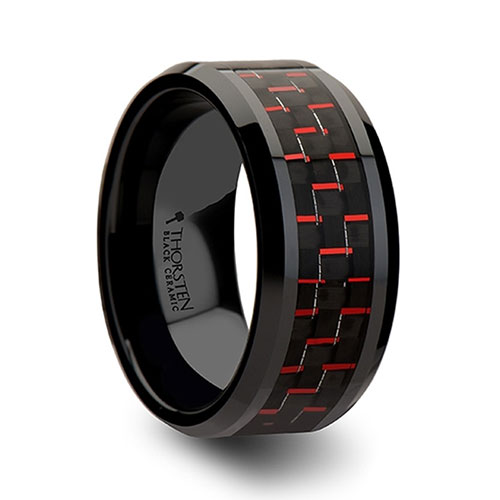 Image Source: Tungsten Carbide Rings
This black ceramic ring is decorated with red carbon fiber and looks like it was ripped off the finger of a robot traveler from the future.
10. Celtic Dragon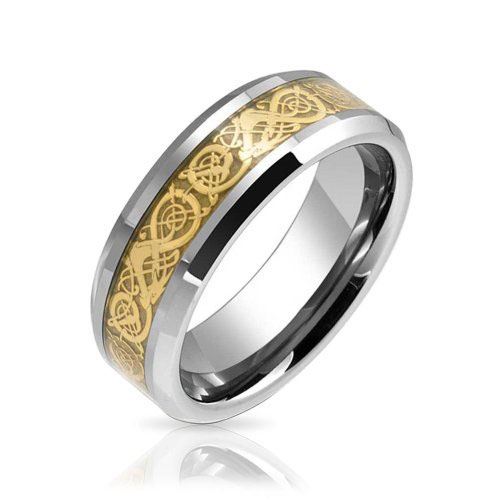 Image Source: Amazon
This Celtic ring is perfect for any man who dreams of saving his lady from a dragon.
11. Under the Sea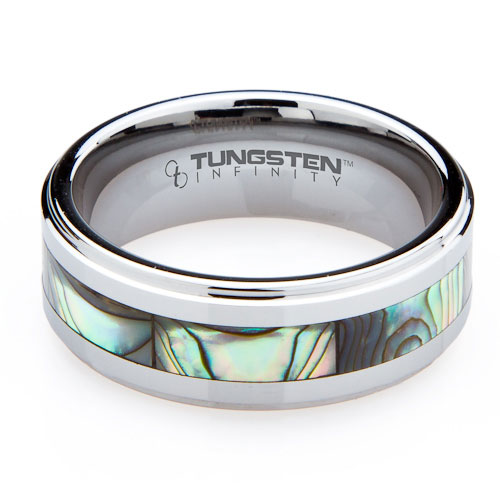 Image Source: Men's Tungsten Online
Is your fiancé a total surfer dude? This ring is inlayed with polished abalone shell and is sure to make him feel connected to the deep.
12. RemembeRing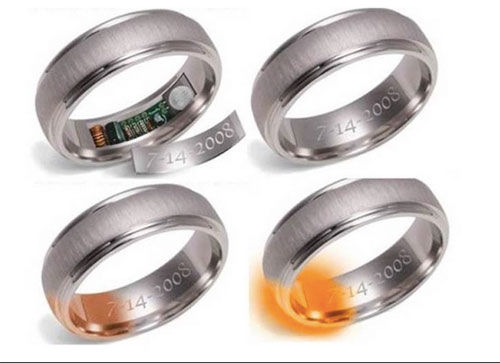 Image Source: Alaska Jewelry
If you're fiancé is the forgetful type, then consider making him get this RemebeRing. It has a battery-operated technology that makes it warm up to a 120-degree temperature every hour, on the hour, starting the day before your anniversary. This is a ring that isn't sadistic and controlling AT ALL.
13. Pre-historic Romance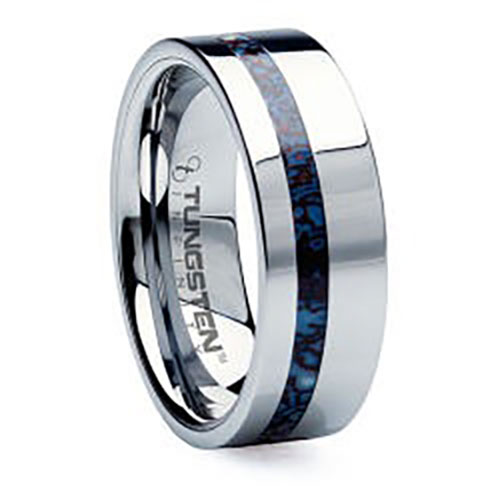 IMAGE SOURCE: Men's Tungsten Online
If your sweetie is a paleontologist, he might be interested in this ring that claims to have an inlay made from dinosaur bone-laden petrified wood. It's only $600, which seems like a steal for a piece of dinosaur!
Now that you've seen these amazingly creative rings, there's no way you'll ever go back to shopping around for a plain ol' band of gold!