Unless you're a member of the Addams Family, the idea of getting married in a cemetery is kind of creepy. A graveyard wedding conjures up visions of tombstone lined aisles and un-dead groomsmen.
But sometimes, cemetery weddings can actually be pretty cool… especially when they're at the Hollywood Forever Cemetery in Los Angeles. Perfect for lovers of the macabre and Hollywood history junkies, the Hollywood Forever Cemetery is a unique place to promise "Till Death Do Us Part."
Hollywood Forever Cemetery is a gothic oasis in the middle of busy Los Angeles. Sharing a wall with Paramount Studios, the cemetery is filled with stars--of the deceased variety. Valentino, Johnny Ramone and Fay Wray are among the Hollywood legends buried there. There's even a memorial for The Wizard of Oz's Toto!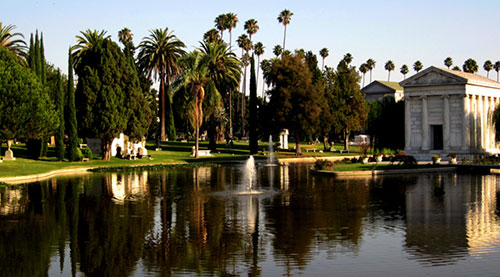 Image Source: Cut Out and Keep
The palm tree lined park is dotted with ornate mausoleums and swan-filled lakes. You're transported to another era as you stroll past the stained glass windows of the Masonic Lodge, which also doubles as a popular music venue. Thousands of headstones make the perfect backdrop for a photo shoot.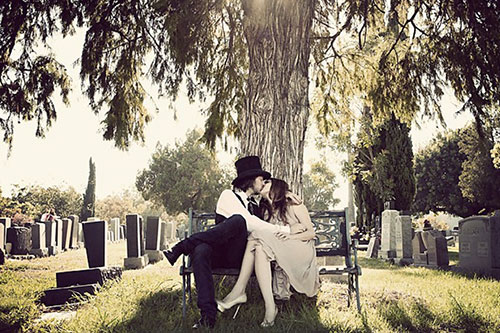 Image Source: images.coplusk.net
Why not celebrate the cemetery's history with a Silver Screen wedding theme? The bridal party can dress in black and white, and walk the red carpet. Or, celebrate your departed loved ones with a colorful "Dia de Los Muertos" reception! Paint your faces and dance the night away by Jane Mansfield's heart shaped tomb.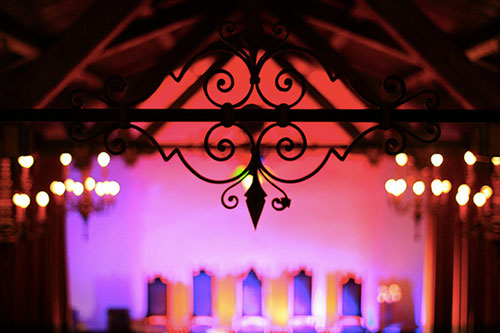 Image Source: Flickr
If you're short on wedding entertainment, see if Cinespesia is doing one of their Saturday night screenings. All summer, they project classic movies off of Douglas Fairbanks' mausoleum. And if the catering fails, Roscoe's Chicken and Waffles is just a short walk away.
Once you get past the creep factor, your guests will be talking about your most memorable wedding locale till the day they die.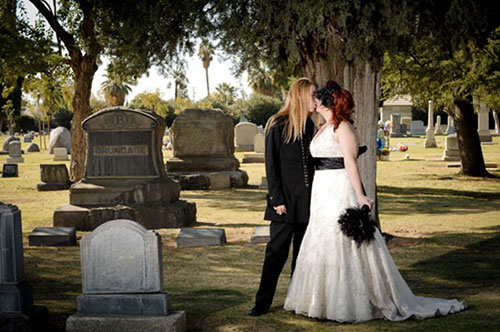 Image Source: bridalguide.com